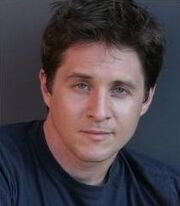 Yuri Lowenthal (born March 5, 1971) is an American actor and voice actor. He voices Dr. Go! and Astronaut Carl in Destroy All Humans! 2. He is probably best known for voicing Sasuke Uchiha in the Naruto series, Suzaku Kururugi in Code Geass, teenage Ben Tennyson in the Ben 10 series and Simon in Gurren Lagann, and Lagoon Boy in Young Justice. 
Roles
Destroy All Humans! 2
Ad blocker interference detected!
Wikia is a free-to-use site that makes money from advertising. We have a modified experience for viewers using ad blockers

Wikia is not accessible if you've made further modifications. Remove the custom ad blocker rule(s) and the page will load as expected.