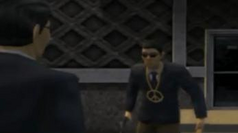 Yamanosuke Hiroto
is the leader of the
West Yakuza
. Voiced by
Paul Nakauchi
.
Overview
He gives a disguised Crypto one mission to lure Kenji Mojo, leader of the East Yakuza into a trap, because Kenji said "His wife was prettier than Yamanosuke's."
However, because of a West Yakuza snitch, Kenji Mojo isn't killed. Hiroto orders Crypto to kill the snitch, but he still wouldn't feel better. After Crypto kills the snitch, he goes to a KGB agent disguised as one himself to be told to kill both Yamanosuke Hirotaro & Kenji Mojo.
Appearances
Ad blocker interference detected!
Wikia is a free-to-use site that makes money from advertising. We have a modified experience for viewers using ad blockers

Wikia is not accessible if you've made further modifications. Remove the custom ad blocker rule(s) and the page will load as expected.