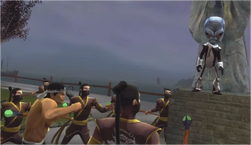 The
White Dragon Kung Fu Society
is a triad in
Shen Long
that opposes
The Master
. It is led by
Saxon
. 
Overview
Long ago, The Master had a student named Saxon, but he was corrupted by power. He left the Master and formed the White Dragons to oppose him.
Since the Master recruited Crypto to his cause, they have been at war with each other. Crypto succeeded in destroying their business interests, smuggling operations. When the Master faked his death, Crypto destroyed their base, their leader Saxon, and the whole empire with a terrible vengeance.
Capabilities
The White Dragon soldiers use staves that shoot energy beams and they have martial artists in their employ. They also use tanks, helicopters, and heavily armed vehicles. Their leader, Saxon uses a Nexo dragon made from Nexo technology smuggled from Francodyne Industries.
Members
Ad blocker interference detected!
Wikia is a free-to-use site that makes money from advertising. We have a modified experience for viewers using ad blockers

Wikia is not accessible if you've made further modifications. Remove the custom ad blocker rule(s) and the page will load as expected.