Triads
are common enemies that are a part of the
White Dragon Kung Fu Society
.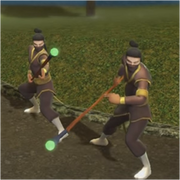 Overview
White Dragons are ninjas who wear magenta-colored ninja suits and masks. They wield staffs that can fire laser beams and know martial arts. They are found in Shen Long.
Gallery
Appearances
Ad blocker interference detected!
Wikia is a free-to-use site that makes money from advertising. We have a modified experience for viewers using ad blockers

Wikia is not accessible if you've made further modifications. Remove the custom ad blocker rule(s) and the page will load as expected.