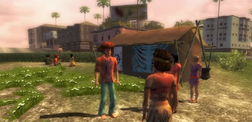 The Flyppies are "gang" of Hippies in Bay City who joined the Cult of Arkvoodle. 
Overview
The Flyppies were formed to spread "Free Love" but so far have been unsuccessful and only had 13 members. Crypto (in disguise) convinces them to join the Arkvoodle cult, by saying Arkvoodle invented Free Love. Astonished, they wish to see Crypto's true form. Once Crypto reveals himself and dubs himself "The Son of Arkvoodle" the Flyppies happily join the cult.
Trivia
They are the first group of Hippies (as well the first people) to be introduced to the Cult of Arkvoodle.
Appearances