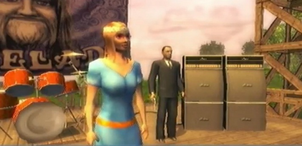 Prudence Kane
is
Coyote Bongwater's
protege. Voiced by
Courtenay Taylor
.
Overview
Prudence tries to get everyone to love Revelade because she firmly believes that Revelade will change the nation. A disguised Crypto goes to the meeting and tricks her into revealing Bongwater's location. After this, she is never seen again.
Trivia
Her model is shared with a variation of the Bay City Hippie Chick, although her dress color is a unique shade of light blue with an orange sash, which cannot be found worn by normal hippie chicks. She also wears orange aviators.
She can briefly be seen dancing with Crypto in the opening scene of the game before the KGB arrive.
Ad blocker interference detected!
Wikia is a free-to-use site that makes money from advertising. We have a modified experience for viewers using ad blockers

Wikia is not accessible if you've made further modifications. Remove the custom ad blocker rule(s) and the page will load as expected.