Martha Turnipseed
is the wife of
Harold Turnipseed
, the owner of
Turnipseed Farm
. Voiced by
Erin Fitzgerald
.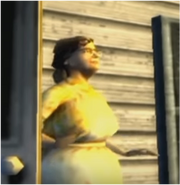 Overview
She witnesses Crypto killing her husband after going outside to alert her husband of a talking horse on the television. A short time later, the local Police come after being alerted by Martha's neighbours, whom Crypto kills after the two spot Crypto's saucer. Martha can be killed when she is talking to the police, although her death has no effect on the storyline. Shortly after, the Turnipseed farm is destroyed to remove evidence.
Cortex-scanning Martha's thoughts reveals that Harold is her cousin, and appears to be ashamed of marrying him, having been the homecoming queen in high school, as well as having to give up her beauty. She has two daughters (one is found near the jetty east of her house, while the second is on the highway selling produce), both of whom are Crazies, presumably due to being inbred.
Trivia
Like her husband, her model is the same as the "Farmer's Wife" model seen rarely around Rockwell and beside a farmhouse south of her house on the main highway.
Appearances
Ad blocker interference detected!
Wikia is a free-to-use site that makes money from advertising. We have a modified experience for viewers using ad blockers

Wikia is not accessible if you've made further modifications. Remove the custom ad blocker rule(s) and the page will load as expected.