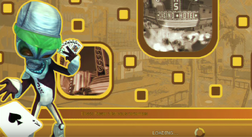 Las Paradiso is the first area in Path of the Furon and the location of Crypto's and Pox's Space Dust Casino. 
Overview
Although not much is known of what happened after the events of Big Willy Unleashed, but it can be assumed that Crypto and Pox immediately went to Las Paradiso to start Ctypto's dream of owning a casino. Using the money Crypto and Pox earned from the Big Willy's fast food franchise, Crypto "built his casino from the ground up" and named it the Space Dust. Starting not only a profitable business, but also a rivalry with the Nero's Palazzo owners, the Molinari Brothers.
Becoming a rich business tycoon, Crypto became lazy and even more native than he already had been. Weeks before the events of Path of the Furon Crypto was driving drunk and crashed his Saucer into the front of his casino; totaling it and adding a new "decoration" to it's entrance. Pox then began to build Crypto a new saucer to replace his old one, and to give to Crypto as a gift.
Areas
Space Dust Casino - The HQ of Crypto here he kills Murray and fought some Molinari's goons. Crypto was forced to destroy his casino when the Nexos attacked him.
Nero's Palazzo- A casino in the strip home of the Molinaris that was later destroyed.
The Duece Hotel - a casino Hotel in the strip.
CMG Casino - A casino in the strip home of the famous piano player Liberoni.
Las Paradiso Dam - A dam built outside of Paradiso.
Las Paradiso Police HQ- The city police station.
Love Chapel - A wedding chapel that opens 24 hours.
Hot Dice Casino- A casino
Hot Rook Saloon Casino - A casino
The Queens Casino and Hotel - A casino
Joker Casino - A casino on Belmont St.
Funny Clown Casino - A casino on Belmont St.
Belmont Casino - A casino in Belmont St- Fremont Casino
Lucky Pot Casino - A casino in Belmont St.- Fitzgerald's Casino
Astro Casino - A casino in Belmont St.
Military Base - A military base that keeps radioactive waste. Crypto raided it to collect waste to use as fuel for the Saucer.
Gallery
Ad blocker interference detected!
Wikia is a free-to-use site that makes money from advertising. We have a modified experience for viewers using ad blockers

Wikia is not accessible if you've made further modifications. Remove the custom ad blocker rule(s) and the page will load as expected.