Grigoriy
is a high-ranking Russian
Police
officer. Voiced by
Fred Tatasciore
.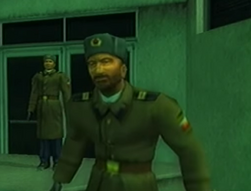 Overview
Grigoriy has Crypto do a couple Odd Jobs for him such as killing Viktor Tanayev (a Russian man who has taken over the Russian Mafia and stole Nikita's car) and to overthrow Zablitsky (his superior) of his rank so that he could takeover and make some changes.
Once you finish the Odd Job with Zablitsky, Grigoriy then gets promoted to a higher rank but you never get to see him again afterwards.
Trivia
Grigoriy is the only NPC mission-giver whose model changes at random - His model differentiates between having a beard or being shaven.
Appearances
Ad blocker interference detected!
Wikia is a free-to-use site that makes money from advertising. We have a modified experience for viewers using ad blockers

Wikia is not accessible if you've made further modifications. Remove the custom ad blocker rule(s) and the page will load as expected.