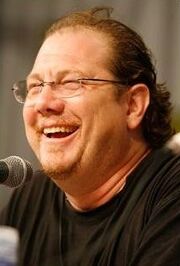 Fred Tatasciore is an American voice actor and former stand-up comedian. He voiced the Cops in Destroy All Humans! and the KGB Agents and various characters in Destroy All Humans! 2. He is best known for voicing the Hulk in many animated roles, "8" in the film 9, Saren Aterius in Mass Effect, Muscle Dad in Regular Show and Buff Frog in Star vs. the Forces of Evil.
Voice Roles
Destroy All Humans!
Cops (credited as Cop #1)
Additional voices
Destroy All Humans! 2
Ad blocker interference detected!
Wikia is a free-to-use site that makes money from advertising. We have a modified experience for viewers using ad blockers

Wikia is not accessible if you've made further modifications. Remove the custom ad blocker rule(s) and the page will load as expected.