Farmers (also known as Farmhands) are enemies from Destroy All Humans! Voiced by Andre Sogliuzzo.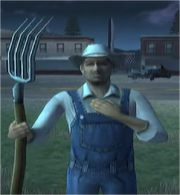 Overview
Farmers can be found around Turnipseed Farm and Rockwell, and are a common enemy. They wield Shotguns and attack Crypto on sight, much like the police officers. 
Quotes
Fighting enemy
"Commies!"
"It's a good day to die, ya little bastard!"
"Who loves ya, spaceman?"
"Quick, Martha, get me a shotgun!"
"This one's for Bessie!"
"Little green men!"
"Woohoo, America! Love it or leave it!"
Gallery
Ad blocker interference detected!
Wikia is a free-to-use site that makes money from advertising. We have a modified experience for viewers using ad blockers

Wikia is not accessible if you've made further modifications. Remove the custom ad blocker rule(s) and the page will load as expected.