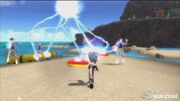 Fantasy Atoll
is an atoll located where Indonesia and the Pacific Islands would be. It is owned by
Mr. Pork
and his assistant
Ratpoo
.
Overview
There are also common enemies such as the plane crash survivors who shoot at Crypto, 1700s-like pirates who dislike Crypto, the navy, the army, and local rangers. After Pox was tricked by Pork, he has Crypto cause a volcano eruption to destroy Fantasy Atoll.
It's sites are Pork Casa, Mt R'koodle, Ancient Sky God Cult, the Village, a golf course, a naval base, Disaster Island, "Authentic" Native Island, Pirate Island, and the Romance-A-Liner cruise ship.
Trivia
This is a parody of Fantasy Island.
Fantasy Atoll was mentioned in the last invasion site of Path of the Furon.
Ad blocker interference detected!
Wikia is a free-to-use site that makes money from advertising. We have a modified experience for viewers using ad blockers

Wikia is not accessible if you've made further modifications. Remove the custom ad blocker rule(s) and the page will load as expected.