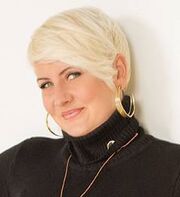 Erin Fitzgerald is a Canadian and American voice actress who has provided many, many voices in both cartoons and anime. She voiced Nazz and May Kanker in Ed, Edd, N' Eddy, Yrel in World of Warcraft, Chie Satonaka in the Persona 4 games series and has also voiced some major characters in The Jungle Bunch, Batman: Year One, Monster High and Ever After High. In Destroy All Humans!, she voiced Martha Turnipseed. 
Roles
Destroy All Humans!
Ad blocker interference detected!
Wikia is a free-to-use site that makes money from advertising. We have a modified experience for viewers using ad blockers

Wikia is not accessible if you've made further modifications. Remove the custom ad blocker rule(s) and the page will load as expected.