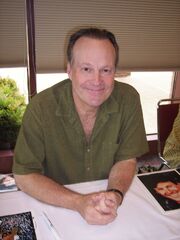 Dwight Schultz (born November 24, 1947) is an American stage, television, film and voice actor. He voiced the Air Force General in Destroy All Humans! and Travis Skeever in Path of the Furon. He is best known for playing Captain "Howling Mad" Murdock in The A-Team and Reginald Barclay in Star Trek: The Next Generation, Star Trek Voyager and Star Trek: First Contact. He also voiced Mung Daal in Chowder, Dr. Animo in Ben 10 and Eddie the Squirrel in CatDog. 
Voice Roles
Destroy All Humans!
Destroy All Humans! Path of the Furon
Ad blocker interference detected!
Wikia is a free-to-use site that makes money from advertising. We have a modified experience for viewers using ad blockers

Wikia is not accessible if you've made further modifications. Remove the custom ad blocker rule(s) and the page will load as expected.