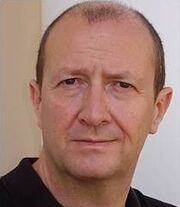 David Shaughnessy is a British television director, theatre director, producer and actor. He voices Doctor Orlov in Destroy All Humans! 2. He also voiced Sir Didymus in Jim Henson's Labyrinth, some additional voices in Robot Chicken and voiced Heathcliff in Big Hero 6 (2014). 
He is the older brother of Charles Shaughnessy.
Roles
Destroy All Humans! 2
Ad blocker interference detected!
Wikia is a free-to-use site that makes money from advertising. We have a modified experience for viewers using ad blockers

Wikia is not accessible if you've made further modifications. Remove the custom ad blocker rule(s) and the page will load as expected.