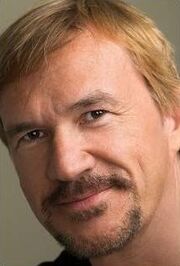 Darryl Kurylo is an American actor and voice actor. He voices Orthopox in Big Willy Unleashed (replacing Richard Steven Horvitz) and the Master in Path of the Furon. He has also voiced Shockwave in Transformers: Devastation, Alex Mercer in Prototype 2 and provided various voices on Stroker and Hoop.
Voice Roles
Destroy All Humans! Big Willy Unleashed
Destroy All Humans! Path of the Furon
Ad blocker interference detected!
Wikia is a free-to-use site that makes money from advertising. We have a modified experience for viewers using ad blockers

Wikia is not accessible if you've made further modifications. Remove the custom ad blocker rule(s) and the page will load as expected.