Bay City Cops
are the police force of
Bay City
. Voiced by 
Keith Ferguson
.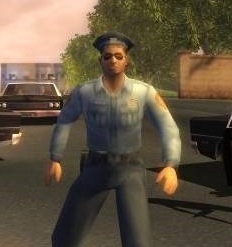 Overview
The Bay City Cops basic enemies Crypto encounters in Bay City. They will come at you during blue alert levels in Police cars (though some of them are seen patrolling during the green alert levels). They are equipped with pistols and rifles. If the Police aren't enough, the alert levels go yellow and the Military come instead. While most of them wear sunglasses, some don't.
They may or may not dislike their job and they are very sarcastic. They are led by Officer Rudolph.
Quotes
"Drop the cop, asshole." (being lifted using Psychokinesis)
"There's a Floyd song in this somewhere..."
"Damn donuts!"
"Move your ass, fatty!"
"Fine, less paperwork for me...!"
"I could do this all night, I'm not proud!"
"Here we go again!"
"When pigs fly; get it?"
"I'd hate to have your electric bill."
"I'll never beat another suspect again I swear!" (after witnessing Meteor Strike)
"I'll pay back the money, I swear!"
"Did you see that brain pop?" (after using Extract on someone)
"Ah, these are the people I protect and serve, how I hate them so."
"Fascist hardass by day, drag queen by night. God I love this town!"
"What's with this "pig" thing? Am I putting on weight?"
"If only there was some way I could unleash my inner Hippie."
"Laugh it up, hippies. God forbid you should have to work for a living."
"Drop your weapon!"
"The smell of brunt , sizzling human flesh. Hmm, tasty!"
"Holy crap, he vaporized him!"
"Go back to Sacramento!"
"Clean up on Aisle Four!"
"I hereby order you to SHAKE THAT ASS!"
Appearances
Ad blocker interference detected!
Wikia is a free-to-use site that makes money from advertising. We have a modified experience for viewers using ad blockers

Wikia is not accessible if you've made further modifications. Remove the custom ad blocker rule(s) and the page will load as expected.