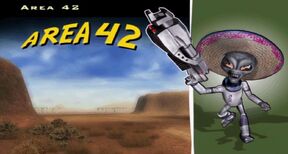 Area 42 is a top secret US government base.
Overview
It has a nuclear test site, an airfield, and a Majestic base. It is an obvious parody of Area 51. Crypto 137 sees his past self, Cryptosporidium 136, dead. Crypto then swears revenge upon his "brother's" passing.
Crypto was then ordered to kill the Majestic Psi-Mutants. and he annihilated the entire Majestic base with the Saucer.
Then, when General Armquist was testing a new fighter plane, Crypto took an experimental nuclear weapon and used it to destroy the Area 42 airfield in a failed attempt to assassinate Armquist.
Gallery
Ad blocker interference detected!
Wikia is a free-to-use site that makes money from advertising. We have a modified experience for viewers using ad blockers

Wikia is not accessible if you've made further modifications. Remove the custom ad blocker rule(s) and the page will load as expected.