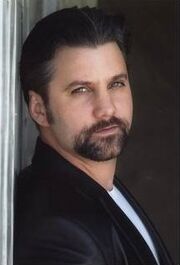 André Sogliuzzo (born August 10, 1966) is an American voice actor, comedian and actor. He voiced President Huffman and Harold Turnipseed in the first game of Destroy All Humans! and voiced Dr. Curt Calvin in Path of the Furon. He also voiced Tony Montana in the video-game Scarface: The World Is Yours, Sideswipe in Transformers: Revenge of the Fallen, King Bumi and Hakoda in Avatar: The Last Airbender, and has provided additional voices for American Dad and Invader ZIM.
Roles
Destroy All Humans!
Destroy All Humans! Path of the Furon
Ad blocker interference detected!
Wikia is a free-to-use site that makes money from advertising. We have a modified experience for viewers using ad blockers

Wikia is not accessible if you've made further modifications. Remove the custom ad blocker rule(s) and the page will load as expected.